Hukarere Girls' College is proud to offer some of the finest academic courses in New Zealand. Our girls are inspired, guided, and encouraged by passionate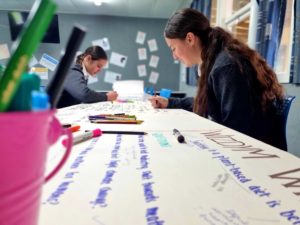 teachers who are experts in their fields.
Hukarere Girls' college offers students the opportunity to learn Te Reo me ōna Tikanga, Mathematics, Science, English, Social Studies and Science, Information Technology, Art, Health and Physical Education, and ILP – Individual Learning Programme. This year, we have been able to reintroduce a Rumaki class for Year 9 students. We will endeavour to include all year levels by 2026.
We recognise that one size does not fit all in education. Every girl is a unique individual with different strengths, challenges, and interests. Our highly regarded personalised learning programs are developed in partnership with teachers, students, and their caregivers to allow each student the opportunity to achieve her personal best.
A variety of activities are conducted once the general school day is concluded. Included are homework help, student council, club meetings, intramural arts, athletic activities, rehearsals, and kapa haka. Some club activities are music, drama, homework club, yearbook, and community service club.