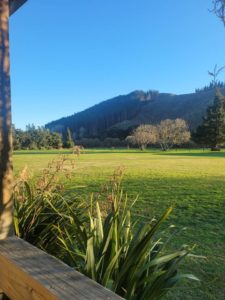 Hukarere is characterised by its rich history, founded by the William's family in 1875 at Mataruahou (Napier Hill).
Set in the picturesque Eskdale only 15 minutes drive from Napier City, Hukarere is nestled in a beautiful rural setting conducive to learning.
We are the only Anglican, Māori boarding school for girls; a place to develop independence, life-long skills, and the confidence to thrive in an ever-changing 21st century. Every student and her story, past present and future, is another feather woven into the great Korowai
of Hukarere.
Our Hukarere values are derived from and rooted in Te Hāhi Mihinare, the Anglican faith: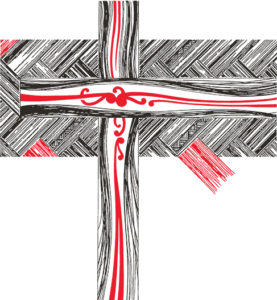 Aroha – Love
Kotahitanga – Unity
Manaakitanga – Kindness, Generosity
Tautoko – Support
Whakapono – Belief, Trust
Whanaungatanga – Relationship
We have a mix of day students who travel to school by bus and boarders. With a roll of only 82 students, the school is small, ensuring each girl receives personal attention in and out of the classroom.
Results obtained at the college speak for themselves. However, we do not focus solely on educational results. At Hukarere Girls' College, we strive towards sending girls into the world equipped with lifelong skills, knowledge and confidence. We encourage debate and careful reflection on the critical issues that lay ahead of them when they leave the school.
Good sportsmanship, camaraderie and fair play are fostered through participation in a variety of sports. Students are able to participate in a wide variety of sports, competitions and events, We also have strong links with clubs and regional organisations.
History: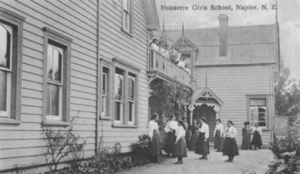 Hukarere Native School for girls opened on July 5, 1875 just below the Williams homestead on Hukarere Road, Napier. The school flourished under the guidance of sisters Maria, Kate and Marianne Williams with the support of their father, William Williams.
In 1910 the school was destroyed by fire. On July 18, 1912, the Hukarere community moved into their new school situated at 46 Napier Terrace. The formal opening of the second Hukarere was held on October 22 of that year. However, the February 1931 earthquake required students to be relocated to Auckland while repairs were made to damaged buildings. In 1932 students returned to Hukarere.
In 1969 the school was closed but the Hostel remained open. From 1970 to 1992 students walked from Hukarere Hostel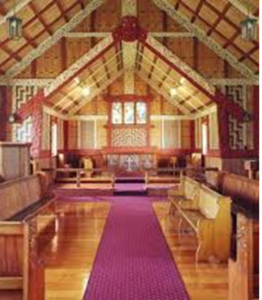 to attend classes at Napier Girls' High School. In 1992, Hukarere went into recess and the majority of the students went to Te Aute College. However, a small group of senior students, "Nga Ahi Kaa" remained at Hukarere, anticipating that Hukarere would reopen.
That day came in February 1993, when Hukarere re-opened as both a school and a hostel with a roll of 20 students.
In 2001 the Ministry of Education announced that the buildings on Mataruahou were no longer safe for students. It took two years to find a suitable new site for a hostel and a school. On April 27, 2003, Hukarere relocated to Eskdale (Herepoho). On October 21, 2004, the Mataruahou (Napier Terrace) site was sold. Some of the money was used to purchase the Eskdale site.